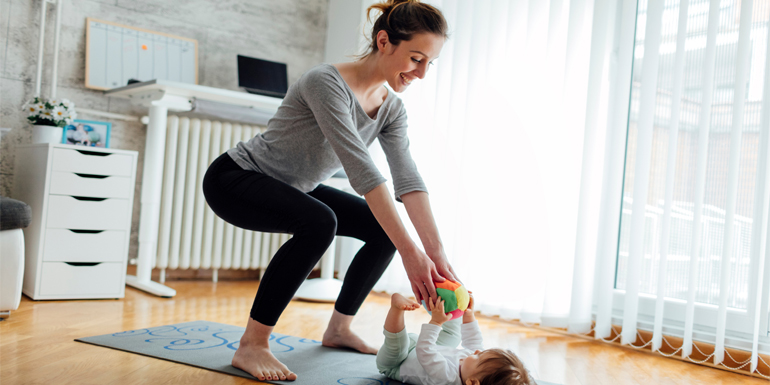 Baby weight is something a lot of women struggle with. You may want to get back to the way your body was before you got pregnant and gave birth, but there are just some very stubborn fats that won't go away no matter how much you exercise and diet. That is what CoolSculpting is for. To help you bounce back, get back the body that you envision yourself having, and get rid of fat by body sculpting treatment. Here is a guide on getting fit and shape after pregnancy.
How to get back in shape after giving birth?
Crunches
You could put your finger above your belly button and watch for separation in your abdominals when you do your crunches and notice that if you get three or more fingers between your abs, then you might have diastasis recti. When you notice this, you have to draw your abs back together before you could start any activity that would strain your abdominal area then go get a consultation to make sure that it does not get worse.
Breastfeeding
Breastfeeding is another natural way to lose weight since you would be able to burn at least 600 calories a day when you are breastfeeding if you pair it with a well-balanced diet and regular exercise.
Walk
You could start walking as soon as you give birth, of course as long as you have your doctor's approval, to burn calories as you get your body back to moving. You could set a goal on how many steps you get a day and get a tracker to help you track them and increase your goal every week so that you could get your strength back.
Kegels
You could usually do Kegels and pelvic tilts a day or 2 after giving birth, this would depend on how your delivery went and how your body is recovering, so you have to get a consult with your doctor to check if it is safe. By doing this you would get a strong foundation, get your abs and hips back to working when you exhale, and draw in your belly to increase your blood supply and help speed up your recovery.
Does CoolSculpting Work on Stomach Fat After Pregnancy?
Yes, CoolSculpting works on your stomach after you give birth, but you are going to have to wait 6 months after you give birth to make sure that your body has fully recovered, 6 more months after you are done breastfeeding, and a prescription since you are going to need to get a consultation to see if this is the right procedure for the goal that you may have with your body.
Perfecting Your Postpartum Body With CoolSculpting
You are only going to need an hour for a single session of CoolSculpting, and you would not need any recovery time after the procedure, which means that you could go back home and be a Mom and go back to whatever you need to do without any worries.
CoolSculpting is a procedure that would freeze your fat cells, and they would leave your body naturally as time goes by. Here are some of the popular areas that you could get your stubborn fat pockets treated at:
Banana rolls
Stomach
Bulge under your bra strap
Waist
Upper arms
Love handles
Back
Mothers who qualify for CoolSculpting:
Minimum of 6 months postpartum
Near their ideal weight
Has a small amount of unwanted weight
Fully recovered from pregnancy
Fully recovered from childbirth
Can CoolSculpting Get Rid of C-Section Pouches?
If you have just given birth via C-section, you are usually going to need a bit more recovery time before they could do the procedure, usually about 4 to 6 weeks. The pouch that you get after giving birth would usually become smaller as time goes by, but there would still be some of them left because of the excess skin that you may have after you give birth and some of your extra fat deposits.
CoolSculpting would be able to remove those pouches. You are going to need a consultation with your practitioner and they would be the ones who would assess if you qualify for this procedure, using CoolSculpting as a way to reduce fat.